One team to manage your investments, set your budget, plan your legacy, and make sure you save enough to retire comfortably.
WHAT DO YOU NEED FOR YOUR JOURNEY?
Your needs are different depending on where you're from, what your career and family are like, and what you want to do with your life. And because you're unique, you should expect unique financial advice from your wealth management partner.
Whether you're a corporate executive, a school teacher, or a wealthy family planning a multi-generational legacy, we offer access to everything you need to make your money work for the life you want to live.
WHEN WE SAY WE OFFER FULL SERVICE FINANCIAL SOLUTIONS, WE MEAN IT.
Financial Planning
We start with financial planning because it's a blueprint that guides you to financial freedom. Our plans are comprehensive and detail every area of your life financially.
Objective Fiduciary Advice
The financial advice we provide is fiduciary advice—which means its objective and only concerned with doing what's best for you. In fact, we're legally obligated to put you first. Always.
Investment Management
We believe in low-cost ETFs to keep management costs down and tax-efficient investments to keep more of the gains you get from the stock markets in your pocket.
Risk Management
All investing involves risk. If you want big gains, you also have to accept you can have big losses. But you're a person, with real feelings and real needs. We compassionately guide you to a risk level you're comfortable with, that still serves your goals.
Professional Collaboration
If you work with a CPA, attorney, or other professionals in your life we don't want to replace them. We do, however, want to help them do the best possible work for you. Life can be complex, so we take an open-handed approach to working together to serve you best.
Multi-Generational Planning
When it comes time to pass wealth from one generation to the next, emotions can run high. We offer a steady hand, objective advice, and the resources you need to create a plan that will protect your legacy and serve your family well for decades to come.
Charitable Giving
Investing isn't only about funding your own happiness, it's also about growing wealth so you can support the causes you care about. We think about charitable giving in a comprehensive, tax-focused way so you can plan to give freely, without worrying if you're damaging your own long-term financial freedom.
Estate Planning
Writing a will, securing power of attorney, and other activities that dictate what happens to your money after death aren't fun—but they are necessary. Ignore them, and you risk your loved ones missing out on receiving all they deserve. Our team makes certain that what you want to happen with your money after your death is what actually happens.
Retirement Income Planning
Saving for retirement and living off the money you've saved after retirement require different mindsets and discipline. Once you transition to your next life adventure after regular work, we'll guide you to how to use your investments to fund your life.
ALIGN
We get to know you and your financial situation. Learn about your life: your wants, your needs, your values, your health, your job, your thoughts, behaviors, and concerns about money.
ASSESS
We gather all of the facts about your financial life: income, spending, saving, accounts, assets, business benefits, legal planning – all of it.
Then we assess your risk and help you clarify short and long-term goals and priorities, personally and professionally.
PROPOSE
We build out a plan for you that takes into account everything in your life.
We present the plan to you and provide recommendations on investing, income, saving, tax planning, insurance, benefits, legal and estate planning.
LAUNCH
We implement the recommendations including managing your investments. 
We monitor, adjust and update continuously as your circumstances evolve and identify progress toward goals and adjust as necessary.
TAP INTO BETTER TECHNOLOGY
If you need to log into more than one website to see all your financial accounts, then your digital life is too complex.
We simplify your finances by bringing everything together into a single website so you can check your checking accounts and home loan right next to your investments. And if you need to send your advisor a secure document, you can do that too.
It's one simple way a Journey advisor can make your life easier.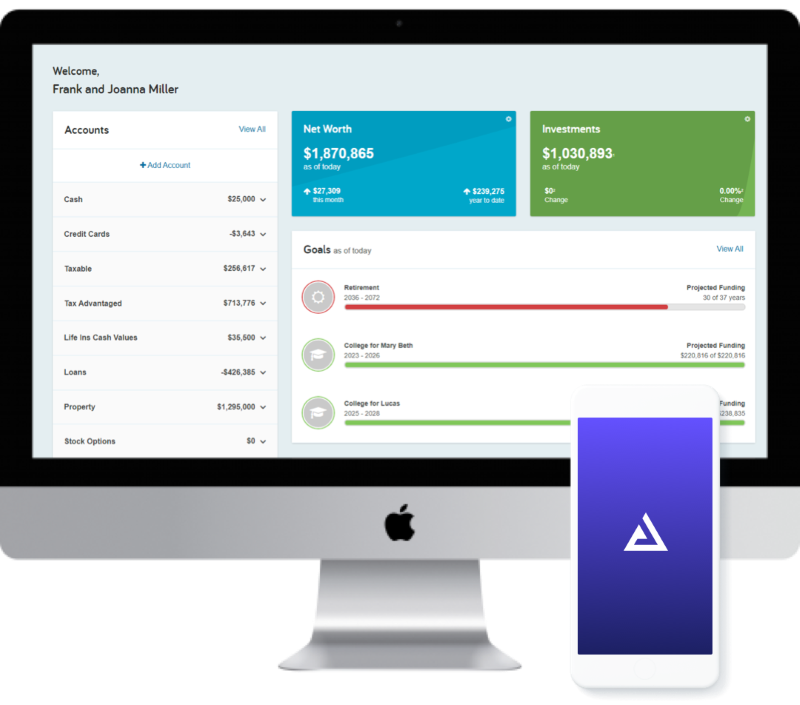 PARTNERS SELECTED FOR THEIR EXPERIENCE, EXPERTISE, & ETHICS

We work every day to earn your trust, and we only work with partners committed to values like our own. That's why we partner with Fidelity Investments to serve as the custodian of our clients' assets. Fidelity was founded over 75 years ago, services over $4 trillion in assets*, and is highly regarded throughout the financial industry for its service to both investment professionals and investors alike.
MEET WITH YOUR FULL-SERVICE FINANCIAL PARTNER.
Connect with a financial advisor who puts you and your needs first. Make the call that could change your life for the better today.